Custom Cabinet Doors Made to Order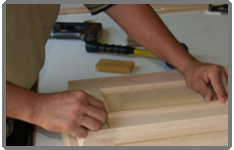 Evans Cabinet and Door, LTD. has been crafting made to order custom cabinet doors since 1992. Every door is handmade from the finest woods available. We use modern methods and machinery to ensure accuracy and quality. You can be confident that every Evans door is backed by the craftsmen who made it.
We offer doors made to your order from our many options with completion and delivery in about seven days. Many of our customers have us make their drawer boxes. Our dovetailed drawers make completing a project on time with excellent quality construction as easy as possible.